Bengal River Cruise
Embarkation: Gadkhali Jetty | Sunderbans Upstream | Embarkartion | Kolkata | Disembarkartion | Farakka
Brahmaputra River Cruise
Guwahati | Silghat | Kaziranga National Park | Bishwanath Ghat | Majuli | Neamati Ghat | Sibsagar | Neamati Ghat | Jorhat
Ganges River Cruise
8 Days from USD 1200 onwards
Embarkation: Gadkhali Jetty, Sunderbans Disembarkation: Vivada Jetty at Millennium Park, Kolkata.
Heritage River Cruise
12 Days from USD 2400 onwards
Embarkation : At Farakka as per convienence.
Goa River Cruise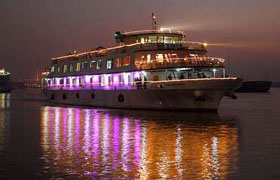 Enjoy a river cruise from Panjim – live entertainment with band, music & snacks. Ideal for private parties & sightseeing.
Rishikesh River Float Trip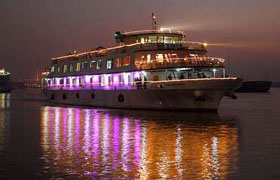 For most not wanting to raft enjoy a nice float trip into the holy town of Rishikesh past temples, ashrams & sadhus.