Current News
Top 10 Itineraries
Golden triangle with a difference
Delhi | Agra | Bharatpur | Ranthambore |
Pushkar | Jaipur | Delhi
Includes the highlights of Taj Mahal & the pink city with a detour to Asia's largest bird sanctuary & one of India's best tiger...
More Info
Rajputana: live life king size
Delhi | Agra | Jaipur | Samode | Nimaj | Jodhpur | Rohetgarh | Devigarh | Dungarpur | Udaipur | Delhi
Backwaters & Houseboat
Delhi or Mumbai | Cochin | Kumarakom | Houseboat | Periyar | Delhi/Mumbai
BEST OF LADAKH
Delhi | Leh | Pangong Lake | Hunder (NubraValley) | Leh | Delhi
Hindustan Tibet Road
Delhi | Nalagarh | Kotgarh | Sarahan | Sangla | Tabo | Kaza | Keylong | Sarchu | Leh | Delhi
Mystical South
Chennai | Kanchipuram | Mamallapooram | Pondicherry | Chidambaram | Tanjore | Trichy | Madurai | Trivandrum
Coast to Coast
Chennai | Mahabalipuram | Kanchipuram | Madurai | Periyar | Kumarakam | Alleppy | Kovalam
Kipling Country – Kanha & Bandhavgarh
Mumbai | Nagpur | Kanha National Park | Bandhavgarh National Park | Khajuraho
PALACE ON WHEELS TRAIN TOUR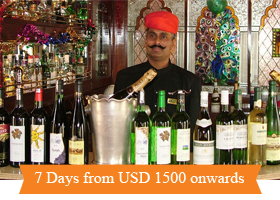 Delhi | Jaipur | Sawai Madhopur | Chittorgarh | Udaipur | Jaisalmer | Jodhpur – Bharatpur | Agra | Delhi
Expect the unexpected- Your first trip to India Share
In India one never knows why or how things happen, they just do! To the intellect it may seem like a mad puzzle which doesn't fit at all, but it is well worth the wait (experience) before you judge -there IS a certain method to this madness! And each individual must experience India at least once in the life time to realize this truth!! On the surface, the Indian sub-continent is brimming with diverse activities, a lot of apparent contradictions and divisions, yet underneath lays the calmness's in the deepest depths of the ocean and the strength to wade through the fiercest of storms. This calmness and the resultant strength is the result of the thousands of sages, yogis, and saints that have inhabited this spiritual Motherland of humanity. Here is some good to know stuff when you travel to India.
Traffic : India is second most populous country in this world. With 1.2 billion human beings walking this land, finding a street empty is next to impossible. With all kinds of vehicles and non-vehicles competing for space and right of the way, one may feel little disoriented initially and some may even feel like they are a part of a video game! Don't hold your breath for too long though, Indians are adept at driving through this chaos without hitting and colliding with others, errr..well most of the time!.


Festivals: No matter what time of the year you are travelling to India, you are bound to be in the middle of some or the other religious or cultural festivities. So research before your travel, and learn about the various festivals that may be coinciding with your travel calendar. Experience the festivities with the help of your guide/ tour operator by being a part of the local or an organised celebration.


Cricket :Cricket is the (unofficial) national sport and a national past time for Indians. From kids playing on the streets and rooftops to professionals on the sports channels, Cricket is everywhere. Don't be shy to stop and try your hand at it.


Getting Stared at: This one takes a little getting used to. Most Indians (including women)have a habit of staring unconsciously at anything or anyone who looks or dresses up differently. This is especially true if you are a woman and when you are in the country side. It's a little annoying, but if you can ignore you will save yourself the trouble of losing your nerves constantly. Dressing up conservatively may also help bring fewer stares.


Shopping: Shopping in India is a delight! You can pick nice souvenirs at flea markets and buy lots of colorful clothes, shoes, handmade stuff at very reasonable prices. Just don't forget to bargain if you are buying from an open market. The prices are usually inflated and a little to a lot of bargaining may be done depending on the market you are in.


Hospitality: Indians are known for their hospitality."Athithidevobhava" is a code of conduct for Hindus, found in one of the ancient Hindu scripture. It simply means to treat the guests as 'God'.


Spirituality: The Yoga in vogue in these modern times as a fitness routine that involves bending, stretching and twisting the body in various forms, is in reality only the physical-aspect of the spiritual tradition of yoga( which literally means to Join or a Union with God or Self) (the highest form of consciousness) involves much more than the physical discipline. It's an overall discipline and turning of the mental, vital, and physical being inwards to a higher consciousness.


No amount of online research and reading will prepare you for the experience that is India. To get the best out of your holiday in India, keep an open mind and not be in a hurry to judge. With so much crowd, the colors, the aromas ,and myriad of contradictory appearances, the eyes may take a while to adjust and you may feel overwhelmed at times, but just let everything soak in and at the end you of your trip, you are sure to take back with you an experience that will nurture your spirits in ways that you have never imagined! So get ready to set yourself for a lifetime experience! Go India.
Orissa
Gopalpur on sea

Gopalpur-on-sea, the beautiful beach resort in Ganjam District of Odisha (Orissa), was once the busy sea port of the state at two hrspicturesque drive from Bhubaneswar – the capital city of Odisha. Very close to Berhampur – a place known for silk Sarees and horn toys, Gopalpur-on-Sea has become a beach resorts in India known for the roar of the high-rise waves and breeze bustling through palm trees. Palm trees, high-rise waves, serene environment and its pleasant weather draw the attention of people from busy cities to spend weekend or enjoy picnic here. Tourists who want to explore the real sea wonder often prefer to explore Gopalpur on Sea. During you tour to Gopalpur, you will visit some of the prime attractions in & around Gopalpur on Sea in Ganjam District of Odisha.



hans coco plam

Set in idyllic surroundings, in what is one of India's best kept secrets – the sea shore of Orissa – The Hans Coco Palms at Puri is a haven of peace, serenity and cultural delights. The experience is a must for those seeking a getaway spot abundant in nature without sacrificing modern comfort. The property, formerly the retreat of Orissan royalty, is located conveniently away from the hustle and bustle of this ancient pilgrimage town on a stretch of pristine coastline – the perfect natural setting for rejuvenating and relaxing the body and mind. The splendid garden creates the perfect setting for relaxing walks in the shade of the coconut groves. Ayurvedic treatments and yoga sessions on the lawns by the pool, to add that healing touch to your stay, are also provided on request. The elegant archways from the lobby lead on to a terrace that overlooks the sculpted turquoise pool and the Bay of Bengal.

Mayfair Lagoon, Bhubaneswar

Being one of the best 5-star deluxe hotel in Bhubaneswar, MAYFAIR Lagoon invites you amidst the lavish scenery, courteous hospitality and elegant interiors that are sure to keep one spell bound and mesmerised for the time to come. Each and every corner of the prestigious property in the heart of the capital city of Odisha (Orissa) speaks all about utter elegance, royalty, luxury and serenity. It provides you the feeling of royal lifestyle during your entire stay. Luxuriously detailed interiors that you will see in each and every corner are flawlessly harmonized by a choice of global and Indian cuisine. It offers an array of activities to relax and revitalize yourself for the next pleasurable trip. A crown with glittering gems on the head of hotels and resorts in Bhubaneswar, the luxury star deluxe resort creates a lagoon of ultimate pleasure in the tranquil city Bhubaneswar – called as Temple City of India. In addition, the fine blend of contemporary architecture and Kalinga Art makes MAYFAIR Lagoon an ideal destination to accommodate during your Bhubaneswar tour.

The chariot, puri

Secluded in the lap of a natural lagoon at the Bay of Bengal, The Chariot is an oasis of tranquility where luxury reaches its new heights. Commanding peerless views of the perennial blue of the Bay of Bengal and sky, the Chariot is a sanctuary of refined sense and sensibility where you will experience the lasting sensation of wellbeing. Appealing to families, city escapees and business groups as much as to the spiritual seekers, this true luxury hotel in the temple town of Puri excites envy for its stunning location, spreading over an area of 3.5 acres, coupled with the super modern facilities of a world-class resort with the unparalleled warm hospitality where guests are introduced to the sensitive, intimate and sophisticated. Beyond the extraordinary suites and rooms and jaw-dropping interiors of a 4000 sq. ft. lobby featuring stunning miniature paintings Pattachitra, authentic to Odisha, our resort provides you a palate pleasing experience, featuring gastronomic delights Gujarati, Marwari and Jain cuisines at The Laguna to more creative international dishes in the Upper Deck. The Chariot has emerged as a preferred destination for kindling and keeping the flame alive. Here you will find a spectacular setting for your romance which will get enlightened by music and dance performed by the folk dancers of Odisha.

Trident bhubaneswar

Bhubaneswar, the capital of Odisha, is also its largest city and one of India's first planned cities. Travel in time as you explore the ancient temples that dot Bhubaneswar, also known as the 'Temple City of India'. Whether it is the sandy beaches or the ancient temples of Odisha, Trident, Bhubaneswar, is an ideal base to explore both.

Located only 6 kilo meters from the city centre, the hotel is set amidst landscaped gardens and fruit orchards. It is an oasis in the heart of the city. Savour the serene views of the gardens and orchards, framed beautifully by the picture windows in your room. With just 57 rooms and 5 suites spread across 14 acres of manicured lawns, you can be sure of finding your own tranquil corner with in the premises. The elegantly appointed rooms, inspired by the traditional architecture of the city, add an old world charm which is perfectly complemented by our warm and caring service.

An essential part of your Odisha experience has to be its varied, yet simple cuisine. Let our chefs prepare authentic dishes with fresh seafood brought in daily from the coast, accompanied with fresh produce from the kitchen gardens. No need to worry about the calories building up, as our state of the art fitness centre or a few laps in our swimming pool will help take the guilt away!